Glulam logs that are just not glulam…..
Companies that don't care to calibrate machinery and use correct blades, and destroy timber, and sell you off cuts and use the words Glulam should be arrested for fraud. It's only because they write such eloquent words to describe their products you believe half the crap they spout!
I am always told off for screaming and shouting about other companies and slagging them off, but as i am the longest running dealer/manufacturer of cabins in the market, i feel i have the right to actually tell you the public the truth.
OK here's a classic example, of good quality glulam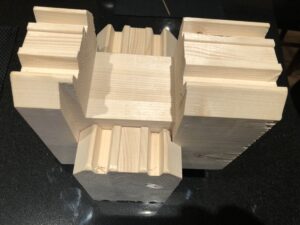 This is quality cutting at its best, this is how you interlock a building, beautiful timber, amazing machinery and quality 100%
The Cutting is so bad is laughable, its utter crap through and through.
Then you get companies selling you this crap, seriously, how and why would they do it? the answer is quite simple, they just do not care about you, they care about how much money they can earn quickly.
If you notice, our logs are from Russian redwood, CE certified, and before someone shouts out FSC, it's a company only earning money from every stick of timber you purchase, and 90% of the staff that work in the FSC headquarters have never ever been into a forest, it's all about the money. If they can show me plane tickets for at least 40% of their staff actually visiting forests in this end of the world, ( Russia) and can prove they know what's what i will withdraw this accusation, but they can't and won't. It's all a con.
Please send us an email if you have any questions.