Welcome to our quality
Camping Pod Range

All our Pods include as standard
External northern Siberian larch cladding , Internal Siberian pine cladding.
High quality certified double glazed windows and doors.
All our double glazed tilt and turn windows have a Micro ventilation system.
All our high quality certified double windows and doors, come with toughened glass.
All our Pods are "highly" insulated.
All our camping Pods are fully wired out, and could be done with your personal specification in mind.
Integrated steel forklift sleeves to help you move the pod where you need it to be, also these steel forklift sleeves helps you unload it from the truck making our high quality camping glamping pods movable any time, in other words these are static pods and non static pods.
Our camping pod roofs are like Armadillo shells, strong solid versatile, weatherproof and extremely hard wearing, we use British manufactured the best in the business Britmet tiles.
All of our camping pods sit on high quality tantalized weatherproofed bearers.
Highly insulated floor cassettes with a choice of many different internal floor finishes.
Plumbing available please ask for details.
Please ask our advisor Ash.
ash@logcabinslv.co.uk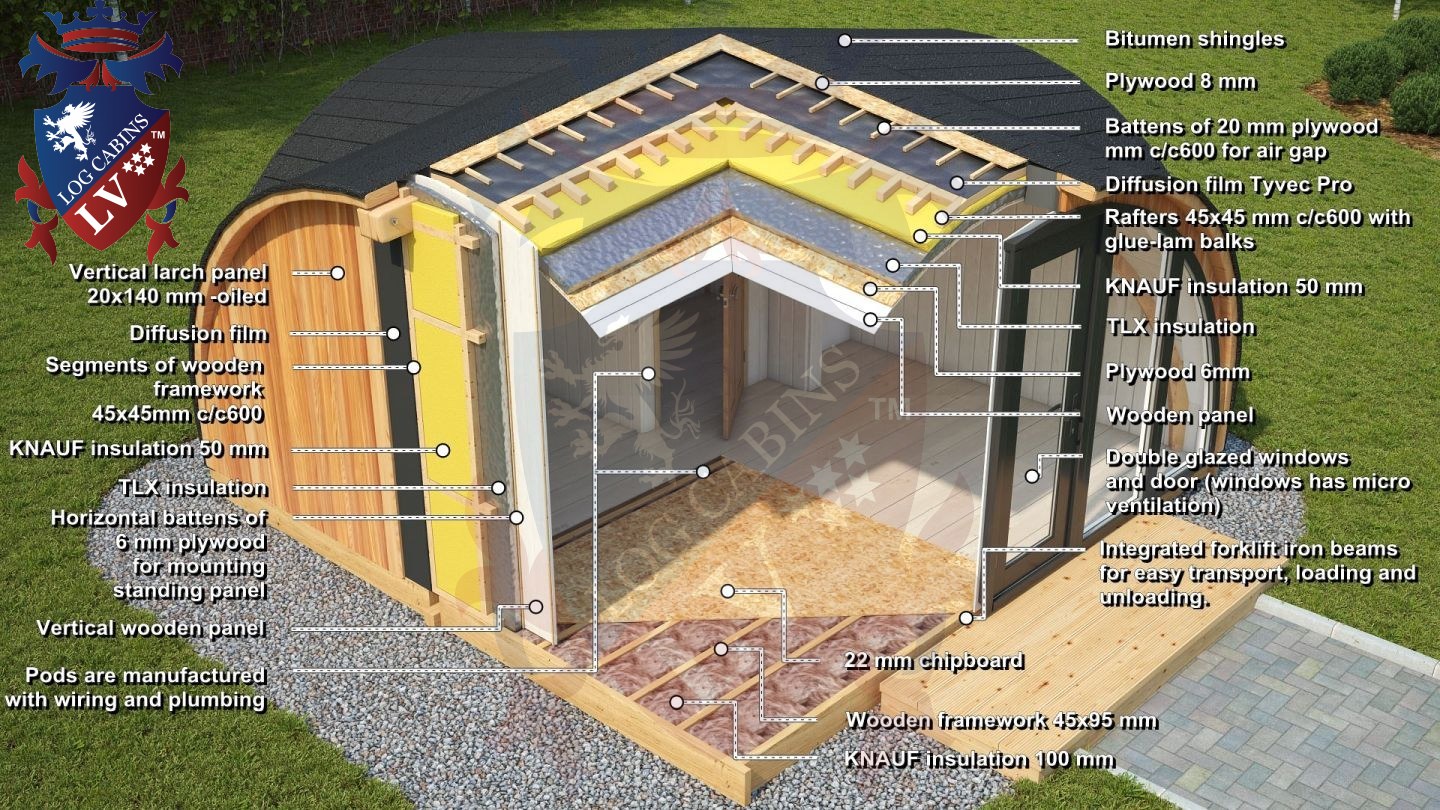 Problems you may have experienced with other suppliers:
1. Missing pieces.
2. Transport delay.
3. Substandard and low-quality windows & doors.
4. Hand made Solid glass package.
5. windows and doors manufactured from normal solid log.
6. Cheap, mass produced hardware on windows and doors.
7. Old style mass produced pod designs.
8. Many other dealers selling the same as your products.
9. High prices for bespoke.
10. Delays in production time.
11. Ambiguous and unclear installation instructions.
12. No customer support-help.
13. Terribly-slow aftercare service.
14. Packing problems-over and under packing of the product.
15. Difficult assembly.
16. Forklift damage, marks, scuffs.
17. Molding/twisting, unseasoned, non KD classified timber.
18. Unclear component markings.
19. KD timber-incorrect moisture level.
20. Unqualified assembly teams.
21. Cracked windows and doors glass on arrival.
22. Long waiting times for replacement of missing/broken parts.
23. Long timescale to resolve problems.
24. Unfriendly/unhelpful support.
25. Non refundable deposits?
26. Damp and mold problems.
And the list goes on…. so much more….
We succeed by being the best and offer you:
NO missing pieces – Our amazing 3 step control system gives us possibility to avoid mistakes in all production stages.
NO transport delay – our transport companies work with us from the time we receive your orders. logcabinslv directly organizes the transport and takes care of the various transportation processes.
logcabinslv Quality Assures the Windows & Doors – We are setting new standards in windows and doors and are the leading manufacturer of this new standard.
logcabinslv provides CE certified glass package – we use only CE certified argon filled glass packages.
Windows and Doors are manufactured from high quality glulam timber.
After sales customer service. We're here to help you answer any questions you might have.
Immediate response – we react fast to any of your requests.
NO packing problems – no over and under packing – our packing system is precise and double checked to avoid any mistakes
When loading we make sure that there is no forklift damage to any of our packs. The driver will not load damaged packs due to his personally assigned responsibility.
Qualified assembly teams. We have qualified assembly teams ready to assist our clients.
Our POD's Prices:
4.0m x 2.4m Pod is 5350eur. Price is without fittings/furniture, VAT or delivery.
5.0m x 2.4m Pod is 8050eur. Small extension, double bed and a bunk bed included. Price is without VAT and delivery.
6.0m x 2.4m Pod is 7350eur. Price is without fittings/furniture, VAT or delivery.
4.0m x 4.8m Pod is 14200eur. Price is without fittings/furniture, VAT, delivery or assembly.
4.0m x 7.2m Pod is 20200eur. Price is without fittings/furniture, VAT, delivery or assembly.
4.8m x 4.8m Pod is 18600eur. Price is without fittings, VAT, delivery or assembly.
4.0m x 9.6m Pod is 32200eur. Price is without fittings, VAT, delivery or assembly.

Please check our other Amazing Ranges