Logcabinslv.co.uk welcomes you to our New and Very Exciting Totally Bespoke Range And More for 2020

Firstly, we here at LogCabinsLV last year decided to design a new range of Log Timber Interlocking Cabins that gives "you" the choice for the very first time, to place "safely", where ever you desire, our New High-Quality Premium Windows and Doors, without the extortionate pricing that has always been added to all bespoke log cabins, since day one.
So now, you have the ability to look through our huge range of Log Cabin Boxes, and our handcrafted excellent Quality Premium Windows and Doors. And design your own amazing space.
The great thing about our range is that you can now pick a cabin, then add the windows and doors, and put them where you want, and really price the building to your budget.
You can also add a window or door. at a later date, if say your budget this year allows you to purchase a 5.0m x 3.0m log cabin and only one of our high-quality strong single fully glazed doors, then fine, next year add the windows. No Problem.
Also, our new bespoke range allows you now to really forget cheap clad sheds, and buy yourself a small 3.0 m x 3.0 m log cabin manufactured from solid 44mm timber and then add a solid door anywhere you wish, the perfect lock up that will last the test of time!
70% of log cabins are bespoke, reasons vary, but normally its because of a garden path, hedge, tree, neighbors wall etc, and 99% of companies will charge you anywhere from 25% to 50% to take a window out or move a door, and in most cases they will remove a window and still charge you more?
As you will see, we have taken our time, namely, 14 months to actually design each and every cabin, and show you where it is safe to add one of our great windows and doors, you will notice that we have marked out on the walls where it is safe to place
Because we take what we do very seriously, we will, of course, look at each and every order, and make sure that each and every log cabin is fit for purpose.
Please do not hesitate to look at our amazing 70mm Deluxe Range of under 2.5m log cabins, each and every log is hand-picked and our Deluxe Range comes with superb quality residential standard windows and doors.
Please do not hesitate to send us an email if you have any questions.
By Logcabinslv.co.uk  
Our LV Deluxe Log Cabin range is superior in every way and there is a good reason for this.
Firstly the timber is winter cut pine, which is not just tight grained but is also an excellent timber for accepting wood stain.
All our cabins in the Deluxe Range are manufactured from amazing timber and cut only to a 70mm thickness wall log.
Every single log is handpicked, every single part of the cabin be it the 28mm floorboard or the 19mm roof boards, bearers, walls boards, windows, and doors are checked to make sure that they are perfect in every way.
Our LV Deluxe range of log cabins are all under 2.5m high, which normally means you do not have to apply for planning permission. However, it is best you check with your local council.
What really does make the LV Deluxe Range of log cabins special? It could possibly be because they precision manufactured log cabins, or that they come with 28mm flooring as standard. or that the LV designs are possibly the most sought after in the UK, also Deluxe LV Cabins come standard Superb Quality Residential Windows and Doors, which are the best in the industry.
All our windows and doors are manufactured using the latest computerized CNC window and door line, plus they are professionally sprayed, to any colour you want from the Ral chart.
So many people do not realize that the windows and doors are actually the most important integral part of a log cabin, once they begin to fail, the cabin normally starts to fall apart, you will start getting water ingress and then sadly rot will set in, then comes blue stain and dangerous mould. Most windows and doors on bulk manufactured log cabins are not manufactured to last the test of time, they are manufactured to a price point.
What is fact, is that all bulk cabin manufacturers are in this business to make as much profit as possible, and sadly the quality benchmark for most log cabin manufacturers is to be just a bit better than a basic shed.
I know it seems as if I am harping on greatly on the quality of windows and doors, but it is very important that when purchasing a log cabin, or a timber frame building, that these parts of the kit are manufactured to the best they can be, this is why LogCabinslv.co.uk should be your only choice. Please click to find out more.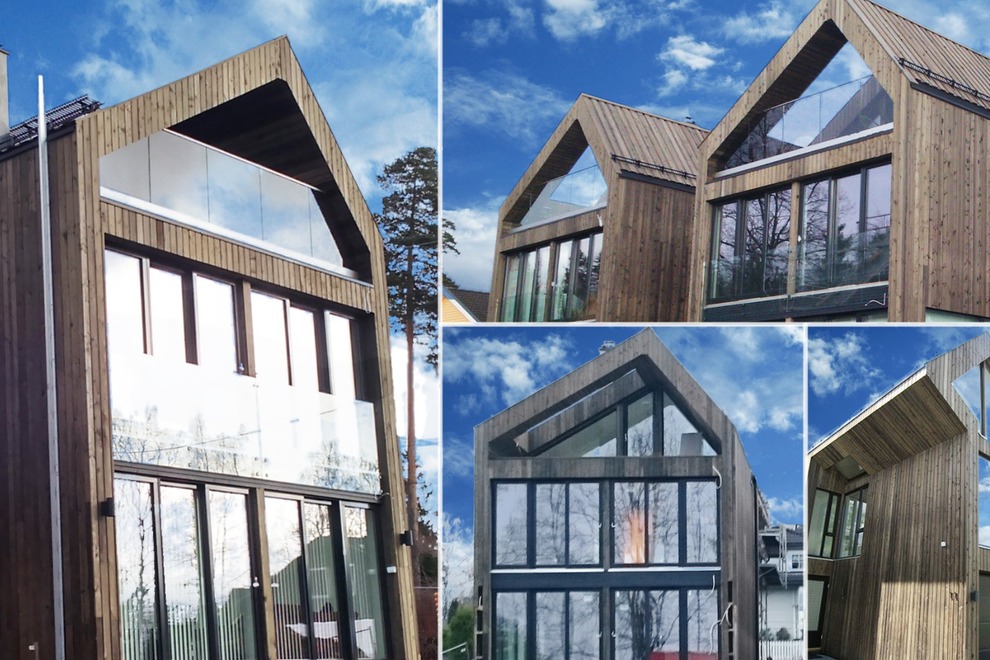 Residential Timber Frame Buildings
By logcabinslv.co.uk
Our sectional buildings provide a wide range of both Residential and Commercial properties. You can choose from our standard range or we can build to your exact specification.
Reception areas, Hotels, Office Buildings, Detached Houses, Apartments, whatever your interests we are able to respond to your requirements.
Sectional Buildings bring an enormous increase in the scope of design allowing for more natural light to filter into the property.
With modern technology at its best, we build such properties with absolute minimal heat loss, thus providing an extremely economical way of life for heat retention throughout the year.
This is mainly due to the extremely effective insulation installed which also minimises outside sound, thus allowing the occupants a quiet, pleasant, tranquil experience.
Our sectional buildings are pleasant to the eye, with fresh clean designs that provide spacious accommodation and/or working environment which is so important for quality of life. Please follow the link.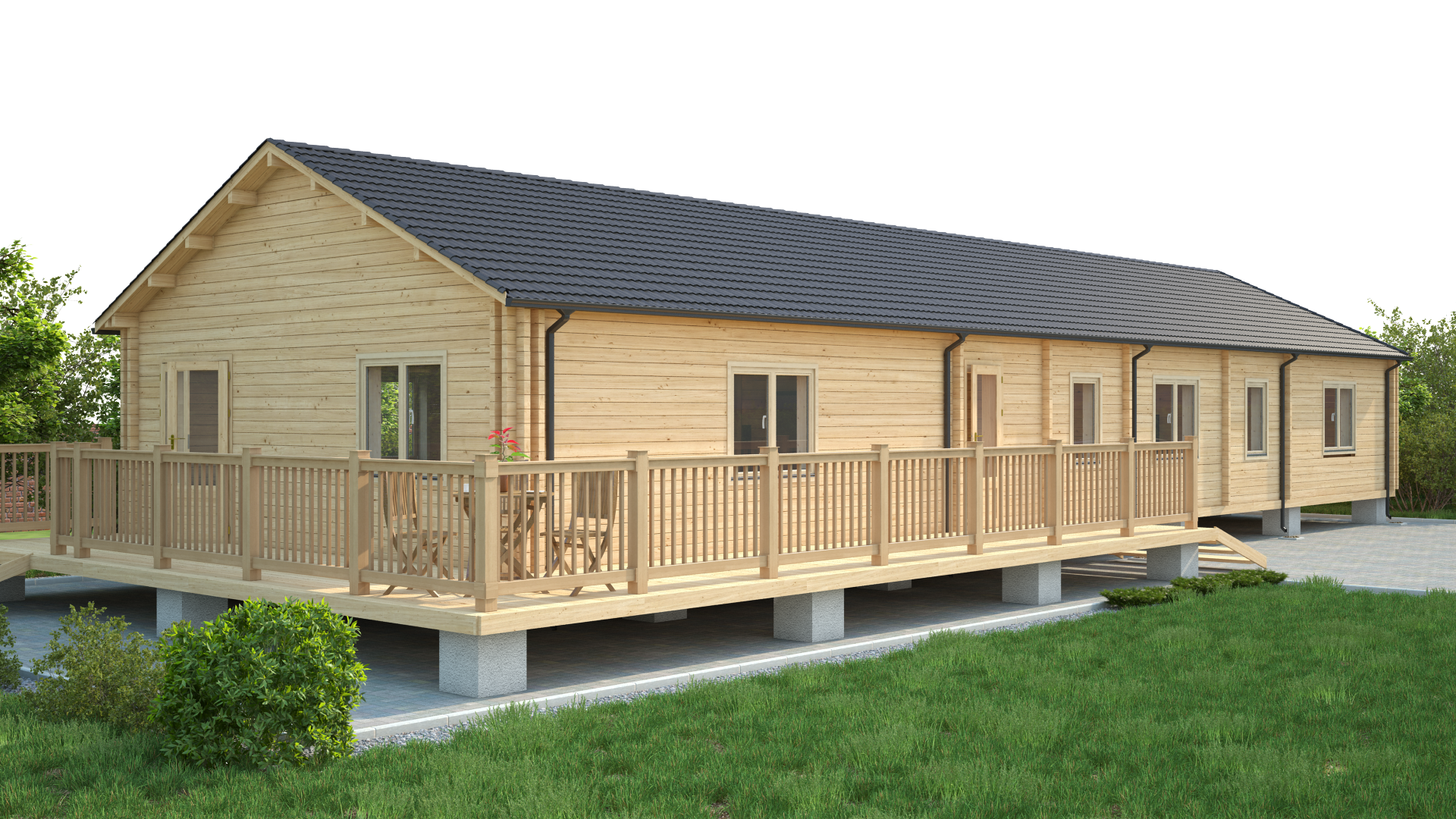 Residential Type Multi-Room Log Cabins
If you are looking for an exceptional quality type residential log cabin, then logcabinslv.co.uk can offer superb timber structures.
Our medium to large residential type log cabins are manufactured using the latest CNC machinery, which always delivers precise molding, cutting, and engineered wood structures each and every time.
Our Residential-Type Cabins can be designed to your individual needs. We offer a full turnkey solution. If you are looking for a quality multi-room building then please have a look at our range.
LV Glamping Camping Pods
By Logcabinslv.co.uk
Logcabinslv.co.uk is probably the world leader in producing and distributing camping pods. In the very early days, we realized that the old style tunnel effect pod was inadequate and created the unique side entry door model which allows a much more flexible use of the space. It also has a stylish and elegant appearance that consumers prefer to the old style models.
We offer a 5-year structural warranty on these models and those new clients who haven't had seen one before theirs arrives are often heard to say ' it's a lot better than I thought'. It does exceed expectations and we do keep adding and developing the range to reflect the changing requirements of the market.
Our new Glamping Pod, Giga pod call it what you like, it is the most flexible and best value high-end unit around. We have designed it to be modular so that the range goes from good size to supersize with enough space and facilities to live in. Our first 2 major client sites have both opened this year and look stunning. The move towards having a bathroom in the pod has become the new baseline and we offer residential level space and facilities, not just a squashed room. Full size 9900mm quadrant showers, vanity basin, and full toilet unit make for an enjoyable experience whilst the Velux windows offer a grown-up feature which is valued by users and could be a showcase for Velux.
The range uses the same blueprint, long life materials, and the new style is literally a larger version of the well-established euro pod.
The Britmet roof tiles which have a galvanized base and finished with granules to give a real lightweight roof with anti-vandal properties and 40 years warranty against ……. The internal structural arches are not covered like most of the pods but are exposed to create a real vaulted ceiling which can be a highlighted feature in the cabins.
The insulation in the floor is consistent across the range with 100mm Knauf being added in the suspended floor void; the walls have 50mm insulation AND depending on the model TLX Silver added as standard or an optional extra. This really steps up the comfort level in both hot and cold weather. In summer the Velux windows and be left on the vent latch or opened to create through air flows to suit.
The standard Euro pod range can have tilt and turn windows to suit your intended use, these also act as a fire escape in the event of difficulties; there is a fully closed and sealed option or the use of a micro vent which allows limited air to enter and leave the building without having the window open.Where pods are required for domestic use ancillary to the main dwelling (such as a home office) then planning permission is not required. However, you are advised to seek confirmation from the local planning authority.
SImply the best Glamping camping pods on the market! Please click here.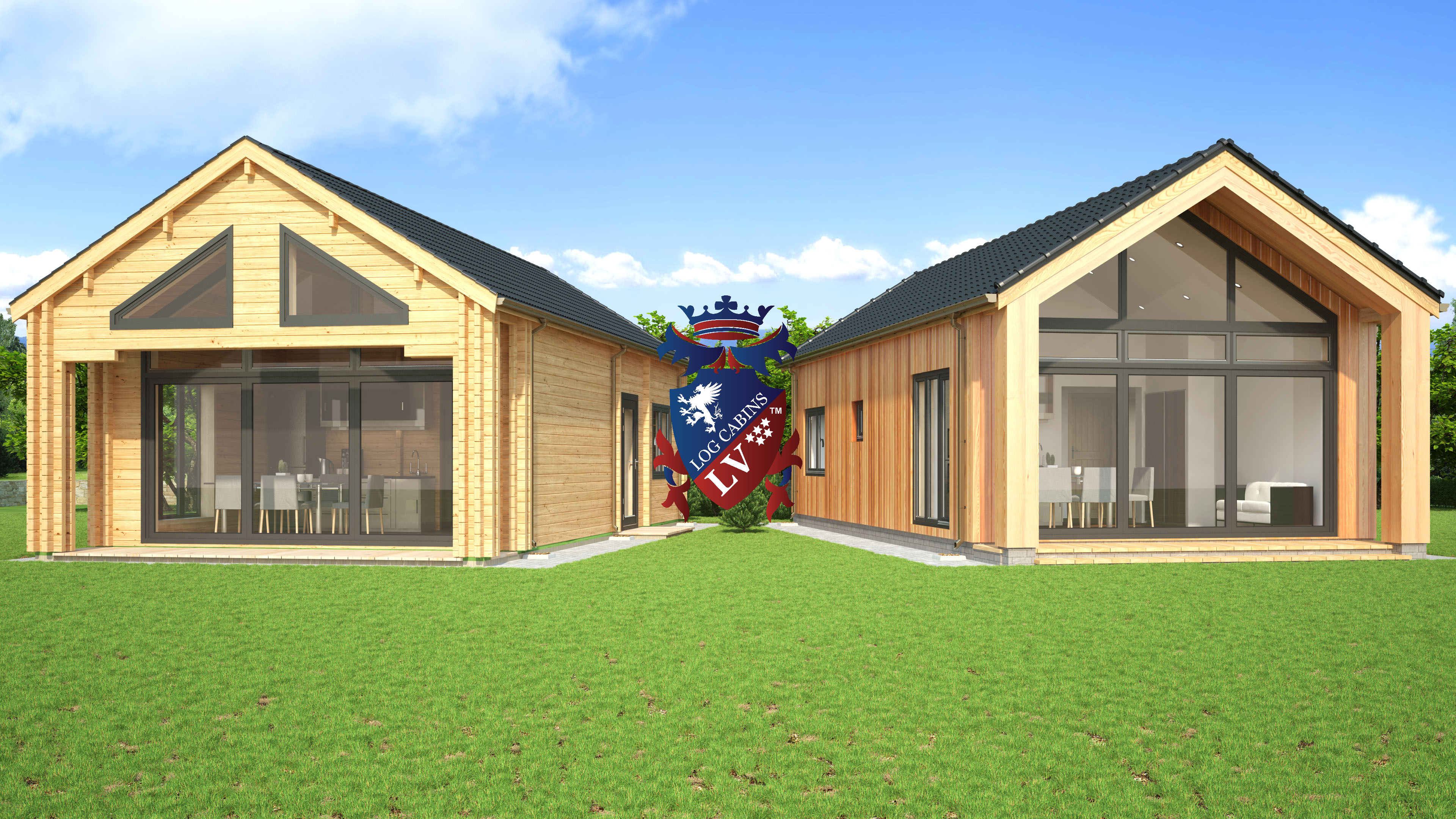 Time To Get a Structural Report.
By logcabinslv.co.uk
We have decided to write this article (rather than a blog) to explain the massive pitfalls of going to a bulk manufacturer and buying what they describe as a Residential Log Cabin.
What really annoys us more than anything, is that after you have read all the deception written on certain websites you then judge every honest company that actually do offer structural energy efficient timber buildings– residential timber buildings- be it in Log or Timber Frame as overpriced, because you have seen a "large garden cabin" which is sold under the deception-guise of being a residential building for some ridiculously low price.
The saying that you get what you pay for is all too true here.
It is seriously Time to Wake Up!
A solid log in 44mm or even a 34mm x 34mm log cabin will never, ever, pass building regulations, the same applies to a solid log in 44mm x 44mm, and the reason for this is quite simple, it's called weight bearing, U values, heat loss, movement and structural. They all fail miserably. If you go to many websites, you will notice they use the word Residential. They are quite clearly misleading the public, and this should then put everything else on their website under a cloud of doubt and mistrust.
Sadly there is no governing body that jumps on this kind of fraud, yet this kind of fraud brings in Millions of pounds every year for the manufacturers and leaves believing unsuspecting honest customers with a building that is not in anyway fit for purpose.
If you would like a residential log cabin, then please think about a 80mm x 80mm Glulam log, or a highly insulated timber frame building as these kind of structures will pass all regulations, and structural calculations and remember to have a UK structural engineer, sign off on all drawings, plans given to you, and not from some guy who works in a mill in "Europe somewhere". This is not a nationalist 'rant' but extremely sound advice.
Structure reports cost around +/- £500. Which is not a lot if you are thinking of spending £40.000 plus on what really could be a glorified garden shed.
The reason we say ask a qualified UK engineer, is that one, the UK rules and regs are different to Europe, Two he will be insured and can be taken to hand if something is wrong, and three, if the mill has used the words residential,  and then the UK engineer makes his assessment, you will then see 99.9% of everything you were told was " false", and the building you thought was a residential log building is sadly not!!…. But you do then have the plans and a structural report, which you then can give to a more open and honest manufacturer.
At logcabinslv.co.uk, we offer a full turnkey solution, our ability to offer all timber build types, keeping pricing realistic, not cutting corners, and being responsible for our manufacturing, work, and finished product.
New Log Cabins LV – DH Range For 2020
Our DH range of log cabins are amazing in design, quality and of course, sensibly priced.
Here you will find the largest range of log cabins, timber cabins, timber frame, eco, passive timber frame houses on the market to date!
LV stands for, quality, honesty, and very sensible pricing.
Available in the following post code areas:
TN, ME, CT, DA, BR, CR, SM, SW, SE, RM, SS, CM, HP, AL, LU, CO, IG, E, SE, EC, WC, W, NW, N, EN, HA, UB, WD, TW, KT, SL, RH, BN, PO, GU, SO, RG, SP, BH, OX, SN, BS, BA, TA, DT, EX, TQ, PL & TR.
Scotland
Available in the following post code:
G, EH, ML, KY, KA, PA, AB, IV, DD, PH, FK, DG, TD
If you require delivery outside of these areas, please give us a call.
We are here to help.