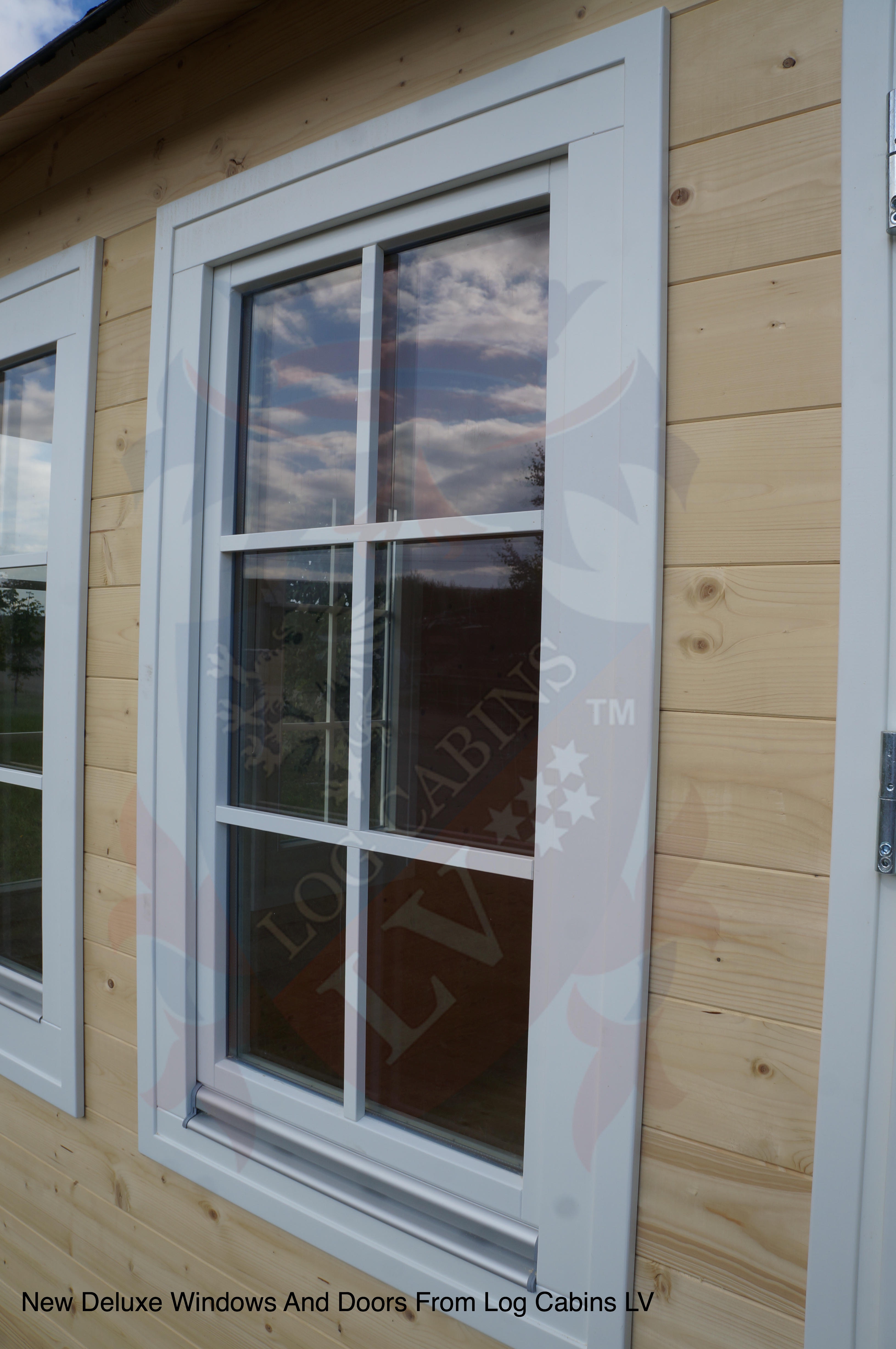 Today I have a call from Mrs. Jones (not really her name) and she asked me some very serious questions about our Log Cabins windows and doors, as her husband had asked her to ring around and find out a few things.
Her first question was, how long would we give a guarantee, my answer to this question was, was she looking for our standard quality or our New Range of Deluxe CE approved windows and doors, she asked for the Deluxe Range, and I said 2 Years as long as the terms and conditions were adhered to, she asked me what did this entail and I said as long as little jonnie was not allowed to swing on the door, and that they were well oiled etc etc.
Did the windows tilt and turn, yes ours tilt and turn, using the professional system from Sweden, no mass produced chinese rubbish installed.
All our Window packages are professionally put into the frame using quality mastic and spacers.
She then asked what kind of glass was in the deluxe range, I said 26mm, argon filled . and manufactured by a certified CE mill.
She asked if the hinges were adjustable on windows and doors, I said yes, of course, and then she asked me did they come painted, I said yes, she asked what was the cost, I said it comes as standard. She laughed at this as another manufacturer had tried to charge her hundreds of pounds just for painting, as I told her, ours are not painted, but professionally sprayed and are done for free on all our deluxe range of windows and doors.
The next question threw me slightly, as she asked if there were any screws or nails showing anywhere in the construction of the windows and doors.
Her husband had obviously done his homework and did not want rust running down the facial boards after 6 months, I said that she was the first person ever ask me this, and No there were not nails, screws visible to human eye or mother nature for that matter.
I also added that every window and door was sprayed professionally.
I also told her that unlike some companies that asked you to change the double-glazing unit to gain a higher quality, our deluxe range of windows and doors were the best they could be.
In addition, our Windows and Doors are the only Log Cabin windows and doors in the industry that are CE approved.
She told me that she had spoken to a few companies and that they all said that no one offered spray painted windows and doors, free with the price. How wrong they all are.
Also we are the only company to offer doors from our Deluxe range with an insulated bottom plate, every other manufacturer offers just 28mm T&G.
Moreover, to top it off we put Oak thresholds on the bottom of the doors for longevity.
Our new deluxe range of log cabins, windows and doors, are not just amazing in quality, they are also amazing in price. Please speak to our dealers for more info. Please send us an email and we will put you in contact with the nearest dealer to you!
Log Cabins are you will see whilst you travel through the internet all look the same, they all have round about the same price tag, and none of the manufacturers even try to better their range all the time the public are buying them.
We at Log Cabins LV are always trying to manufacturer better quality buildings but at the same time keeping costs low. However, there are some people that want not just a run of the mill Log Cabin, they want the best, especially if it's for a Office in the garden, or for an overnight stay for a member of the family, etc.
There are many companies out there, German, Polish, Latvian, Estonian, Lithuanian and Romanian that mass produce sadly absolute Rubbish, most of this ends up in Germany, France, Italy, Spain UK and Ireland.
Sadly the public see these cheap nasty cabins on EBay, or on the first pages of Google, Bing, Yahoo, and straight away think they are fantastic, because in so many peoples eyes, a cabin is a cabin, when in reality a cabin is not a quality log cabin if it's from a bulk manufacturer, it's rubbish! They leak, they twist, they normally are built using very young timber, pine or spruce, and to top it off the windows and doors are complete and utter crap!
A lot of manufacturers in the Baltic's sadly have become bulk minded, as the owners and shareholders only want to see profit, not quality, and profit comes from volume.
This is where our work ethic is so different, we believe in manufacturing quality, slowly, each and every cabin is bespoke, as we have nothing in stock, so your Log Cabin was manufactured for you.. It has not stood outside for months on end, with 9 other cabins on top of it, waiting for someone to buy it, it's freshly manufactured solely for you.
The LV brand is known for quality, not mass sales.
Most log cabin companies in the UK have up to 25 to 30% returns, we have zero.
To offer these new Deluxe Windows and Doors we had to purchase new machines, cutting blades, which are incredibly expensive and unique to us, argon filled window packages, also we had order in new joinery size timber as standard sizes would not fit wall log profiles, this was an expensive investment, but one that we believe is necessary so as to better the product!
We also had to look at pricing, yes our windows and doors cost slightly more than what's on offer at present with standard log cabins, but!! Windows and doors really are the be all and end all of the life of a log Cabin, once they fail; the log cabin looks awful, lets in mother nature, and that pride and joy at the bottom of the garden becomes the eye sore you want rid of!
All log cabins are an investment, and when making any investment you want to know that your investment is going to last a long time, purchasing a LV Deluxe Log Cabin is a sure investment.
The sensible choice.
Log Cabins LV do not settle for less!
Please visit our Web site..Click Here..