Most companies never show the insides of their cabins, and there is a really good reason for this, they look even worse inside as they do out, yeah, once again I jump on the other companies and call them all crap etc, but sadly being the Granddad of this industry, and seemingly being the only one who actually wants to change things, make cabins better and better, not worse, always upping the quality and keeping prices the same, selling direct, through our LTD UK company and pushing the customer to pay with a credit card , for their own protection, is quite a move forward, I am seriously happy with what we have accomplished over this last year, we got rid of the middle man, we don't need them, they always said the shed companies that we needed them, customers will not buy direct, they are worried, what a load of bollocks, customers love saving 1000's and getting more and a better cabin, plus excellent customer service. Most shed, companies are just rip off merchants. They resell our hard work, earn more than us, and scream for low prices. They are the scum of this industry completely!
We have our own building teams in the UK that are cheaper than shed companies and better, we have direct line of sales to you, and best part is, we know what your going to get, when its leaving and when it will get there.
Next we use Russian Scotts Pine, Our timber looks Russian, and trust me when I say the grain is as tight as your wallet! North London Humour!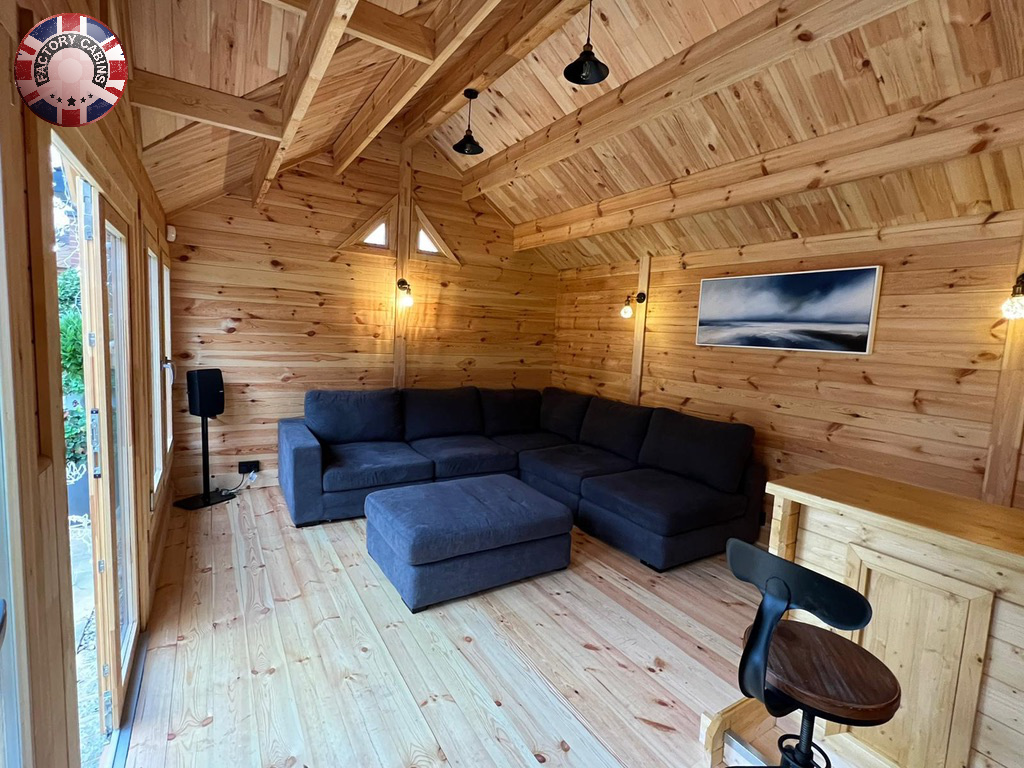 Check Out the quality of this building inside, its built by the best, us, hand picked timber, all cut on a new CNC Multisize Log Cabin Line.
Our Doors and windows as you can see have new for 2021-2022 multi locking system plus each door has 3 German hinges and as you can see quality here is 101%.
Why do people in general come to us, simple, they have money to spend, want the best, understand that we know whats good and bad, want to buy from a Brit, that started this whole industry, want to buy from someone that will tell them the truth, more importantly you are going to feel safe with your choice, forget Resellers, they are here today and sadly your money and them gone tomorrow, we are the choice, you do not ask someone to go to the bank for you, you go yourself, so if you want to spend 1000's then give it to the girls and guys that are here today, and will not be gone tomorrow.. We can give you hundreds of references, we are also on our banks blog as being one of the best manufacturers to sell to the public by credit card last year, but most people who buy from us, have read my blog, and these people know that I hate liars, and con men, I just want to give you the best of the best as quickly as possible and I am told I do this well! And everyone I work with always come back, especially in the Holiday, Chalet, Pod, Lodge industry.